A morning walk in Mead Garden
We are having a beautiful, sunny day in Central Florida. I decided to take a short drive over to
Mead Gardens in Winter Park. Upon arrival there were only a few cars in the parking lot.
Always a good sign. Quiet, peaceful, good for bird watching. I grabbed my binoculars and headed toward the
"butterfly garden", which is starting to show new life. Then on to the 'boardwalk.'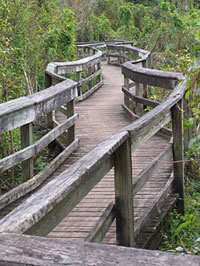 I rarely see anyone out there. The 'boardwalk' meanders over
and through the 'wetlands'. Interesting that I rarely see any birds out there either.
Eventually I exit near Howell Creek
which runs through Mead Garden, connecting Lake Sue and Lake Virginia.
Not far up the path I saw a Pileated Woodpecker,
some Northern Cardinals and a few other birds that were too quick for me to get a good look. I took the Western Path
around the Pond, spotting a Male and two Female Mallard Ducks. As I walked around the Southern edge of the pond
an artist was setting up her easel to work on a painting of the pond.
Once again approaching the creek I spotted one Female and three Male
Wood Ducks. They are so beautiful and very shy. I had to stay at a distance
viewing them through my binoculars and even then, they paddled upstream
to a more secure location. I continued my walk and suddenly a shadow
swept the ground in front of me. Looking up a Short Tailed Hawk landed
in the top of a Cypress Tree beside Howell Creek. I was only able to view his
back and a slight view from the side. It is a bit larger than a Crow.
I stayed for a few minutes then headed up the hill on the paved bike path.
Tomorrow the Central Florida Chapter of the Audubon Society will be conducting their monthly bird survey.
Until then………… Peace and Good Health
I found this from the Winter Park Lakes Division….
"Most of the City of Winter Park is in what is known as
the Howell Branch Drainage Basin. Howell Branch
(also known as Howell Creek) is a tributary of the St.
Johns River. The headwaters of the Howell Branch
system are near the T.D. Waterhouse Center in
downtown Orlando. The creek flows through
numerous Orlando lakes, connected by open channels
or culverts, as it makes its way to Lake Sue. Lake Sue
flows into a natural section of the creek that meanders
through Mead Gardens on its way to Lake Virginia.
Lake Virginia and the rest of the Winter Park Chain of
Lakes are essentially wide spots in the Howell Branch
Basin. After leaving Winter Park, via Lake Maitland,
the creek flows under Howell Branch Road, through
Lake Howell and eventually to Lake Jessup. Lake
Jessup, which is fed by several other tributaries
empties into the St. Johns River east of Osteen."
Tags: Florida, Howell Creek, Mead Gardens, Winter Park